7
Motor Insurance
Trends in the automotive industry
7
Motor Insurance
Trends in the automotive industry
Nothing is as sure as constant change
Over the past few years, the fleet business segment has undergone fundamental change. In 2019, for example, car-sharing models were on the rise. After the start of the COVID-19 pandemic in early 2020, however, hardly anyone was interested in sharing vehicles with strangers.
The car-sharing business has came to a standstill. Now, however, car-sharing models are on the rise once more, with figures growing even faster than before the pandemic. Working-from-home arrangements and environmental challenges mean that user behaviour has changed significantly. As a result of supply chain disruptions, delivery times for new vehicles are at historic highs. In addition, the switch to alternative sources of power and electric vehicles has only just begun. However, massive price rises are the dominant trend in the automotive industry. These are the main points.
Price increases caused by inflation and supply bottlenecks
Prices for used vehicles have reached an all-time high. For some SUV models between two and four years of age, for example, prices are already as high as the prices at which their new counterparts are being sold.
These price increases have been driven by factors such as bottlenecks in the supply of new cars in the wake of production stoppages during the COVID-19 crisis, earthquakes in Japan, snowstorms along the East Coast of the USA and supplier insolvencies.
This market trend has also been confirmed by the German Federal Statistical Office: consumer prices rose by 3.1 per cent in 2021 compared with the previous year. The increase in consumer goods prices has massively hit the used-car market in particular.
According to a report by Deutsche Automobil Treuhand (DAT), prices for used cars increased by a full 18 per cent from 2019 to 2020 alone, and again by almost seven per cent in 2021, as illustrated in the chart below.
Trend in average prices for new and used cars
2012 – 2021
Source: DAT, provided by ADAC e.V.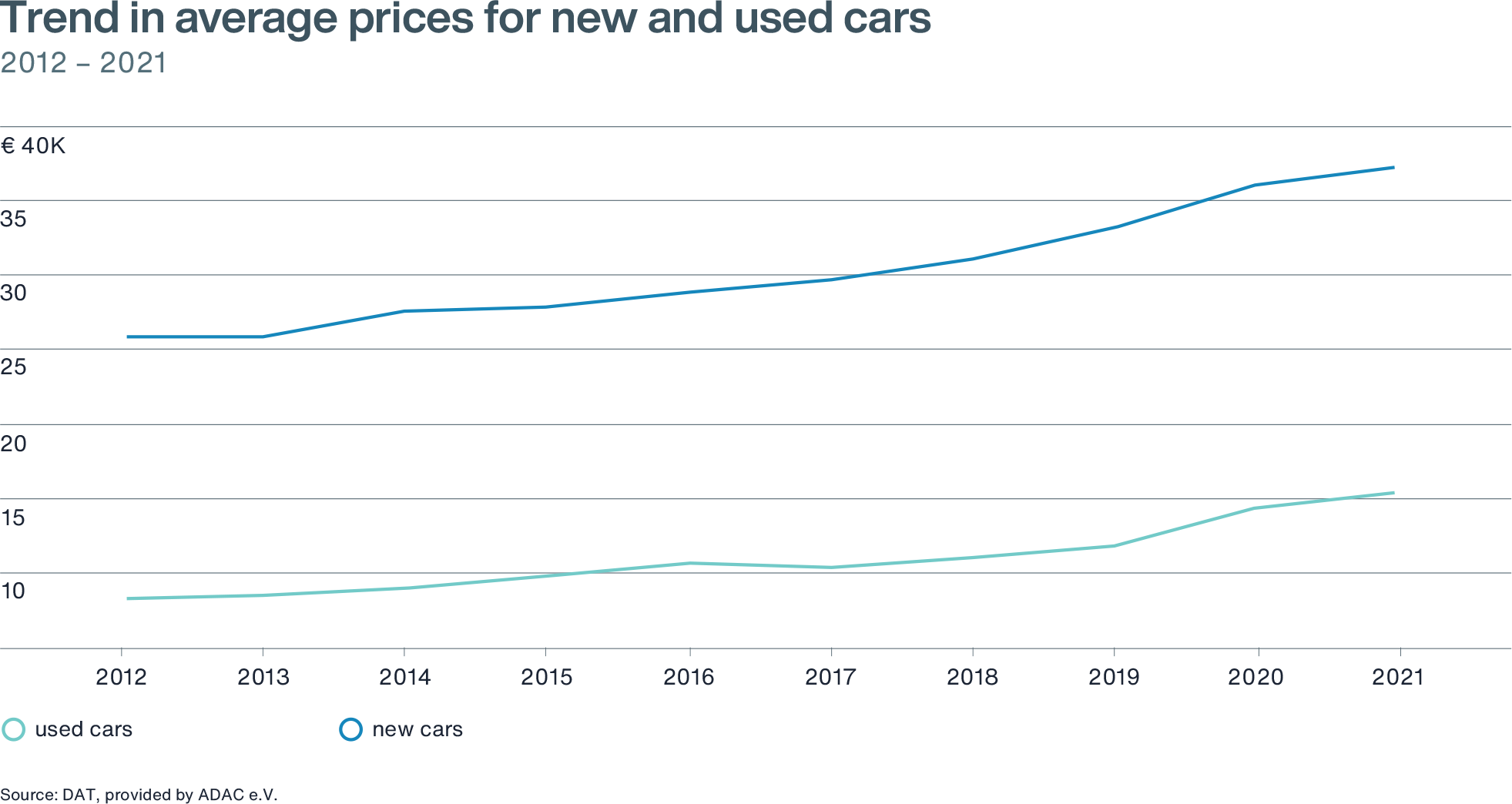 Repair costs are also on the rise
As spare parts become more difficult to procure due to bottlenecks in supply chains, repair costs (and other items) will also rise. In addition, the war for talent implies that insurers will need to spend more money on staff, a move which will continue to drive up administrative expenses.
New technology installed in vehicles as standard could make it possible to better assess or even avoid vehicle damage in the future. At the same time, however, additional damage scenarios that cannot yet be identified – such as hacker attacks on the on-board computers of an entire fleet – are to be expected.
In the long run, both new risks and inflation-related cost increases will force insurers to raise the premiums for motor liability insurance.
Hybrid vehicles have overtaken diesel vehicles for the first time
Another interesting trend is being witnessed when it comes to the switch to electromobility: current figures show that in 2021, for the first time, more hybrid vehicles than diesel vehicles were registered in the EU.1 According to the European Manufacturers' Association (ACEA), hybrid cars accounted for 19.6 per cent of new registrations in 2021, the same as for diesel vehicles. In absolute terms, however, hybrids were just ahead of diesel cars (1,901,191) with 1,901,239 units sold in the EU.
Conclusion:
It can be assumed that premiums will at least be increased in line with inflation. However, high repair and administration costs mean it is more likely that they will rise even more sharply. Competition is expected to increase as both manufacturers and insurers are becoming more involved in the market while registration figures are stagnating. It is therefore becoming increasingly important to keep the number of registered vehicles at its current level.
1) New registrations in the EU: hybrid vehicles have overtaken diesel vehicles for the first time – manager magazin (manager-magazin.de)