8
D&O Insurance
Strong demand for D&O insurance
8
D&O Insurance
Strong demand for D&O insurance
After two years of a tough D&O market characterised by price increases, cuts in limits and restrictions on terms and conditions, companies can hope that insurers will display more discernment when renewing their policies in the near future. One indicator of this is insurers' increased interest in new D&O business, a factor which makes it more difficult to enforce further disadvantageous policy adjustments. However, this positive trend will not benefit companies in all industries.
Market situation
The tense geopolitical situation, rapidly rising inflation, the increase in cyber attacks on companies and the ongoing pandemic are demanding greater responsibility from D&Os in the aversion of company risks. This means higher liability risks for managers in an already challenging regulatory environment.
The feared pandemic-related wave of corporate insolvencies and associated claims for damages against managers has so far failed to materialise, However, according to Allianz Trade1 forecasts, a 15 per cent increase in corporate insolvencies worldwide compared with the previous year is to be expected as a result of discontinued government support. Since many insolvencies also involve allegations against management, such situations threaten a rise in D&O claims.
In addition, 2021 GDV Statistics show that D&O insurance benefits have increased more strongly (14 per cent) than premium income (9 per cent).2
In light of the overall situation, it is clear why insurers are closely monitoring and reviewing their D&O exposures, especially in the case of particular risk exposures such as industrial background ("COVID")3, stock market listing and/or D&O claims history. These days, companies are required to provide much more information than in previous years. This applies in particular to international corporations which are required to disclose their business activities worldwide (especially those in Russia and Belarus) as well as the measures they have taken to deal with ESG matters and to manage their supply chains.
Number of corporate insolvencies in Germany
from 2011 to 2021
Source: Statista 2022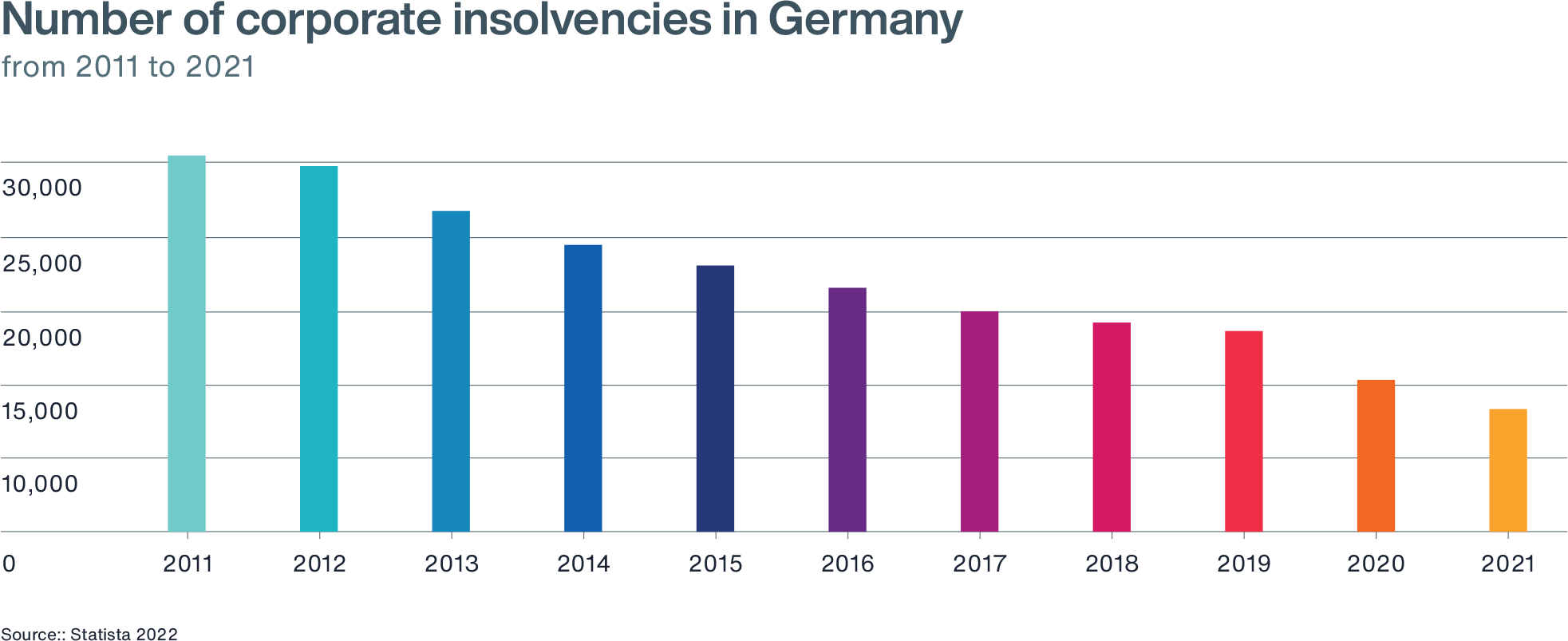 Outlook
Insurers are approaching D&O insurance in different ways. A lack of adequate premiums has led one of the pioneers in D&O on the German insurance market to close its D&O book in practice for the German and Austrian markets. Other insurers, by contrast, are broadening their base and investing in personnel and processes in order to provide capacities (including international insurance programmes) in their basic policies offered to larger SMEs and major industrial enterprises, thereby stimulating competition.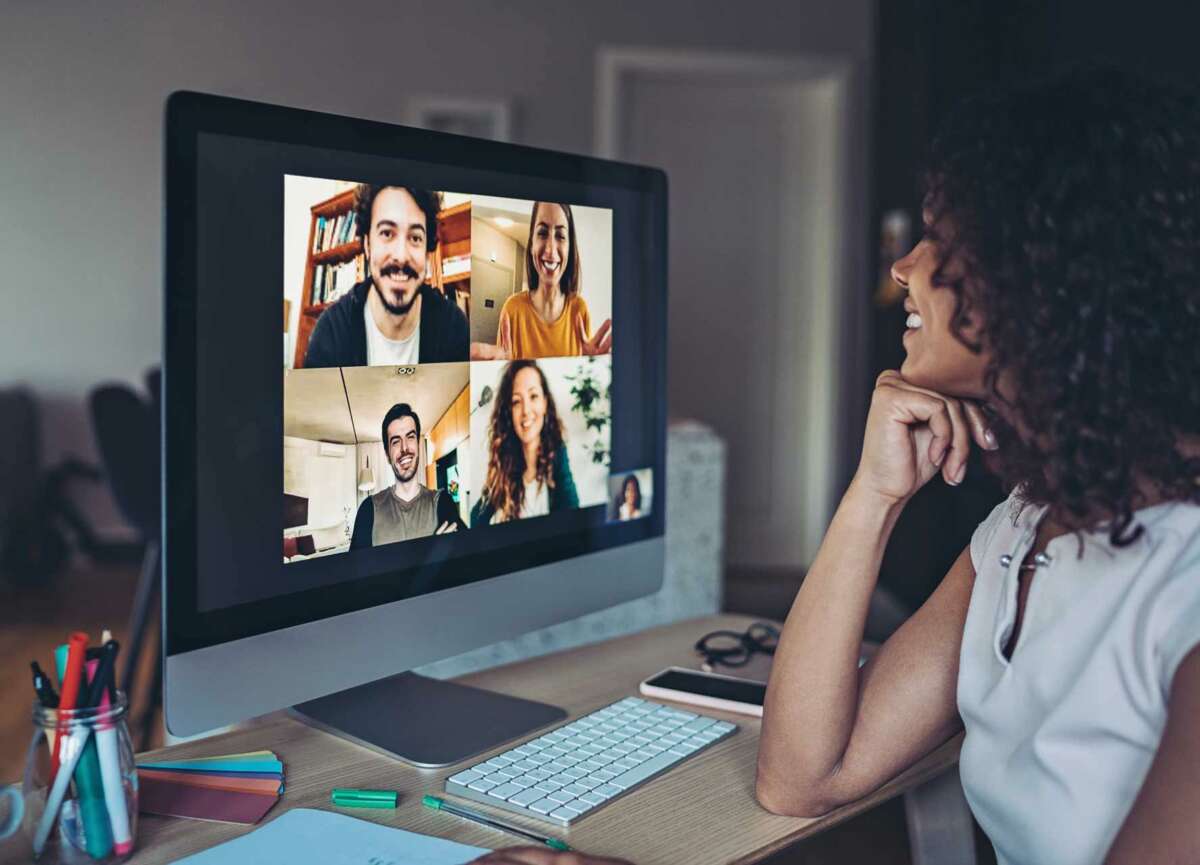 Neither the most recent round of renewals in 2021/2022 (average premium increases of 15-25 per cent), the Aon Q1 2022 Pricing Index, nor the risk landscape to which managers are currently exposed suggest any easing in the D&O market. The growth course announced by insurers, with the focus on new risks (including in basic policies), and the latest policy renewals are showing a different picture. Initial signals from the market suggest that, given the inflation-induced pressure on costs, policies with "good" risk will be renewed unchanged or with moderate premium increases. Whether insurers will keep their promise remains to be seen.
The expansion of their underwriting powers, especially for UK insurers, will create additional D&O market capacity through underwriters.
Risk carriers are also becoming more receptive to policy wording negotiations with brokers, provided the scope and terms selected are moderate.
As for risk exposure in war zones, insurers are not intervening in current D&O programmes or local policies. However, where policies have been extended until the middle of the year, risk-exposed companies have had to accept territorial restrictions on insurance coverage.
For special risk exposures such as US-listed companies, Special Purposes Acquisition Companies (SPACs), USDeSPACS (target companies merged with a SPAC) and companies from problematic sectors, global markets such as London or Bermuda are coming into play.
Premiums, benefits and loss ratios in D&O insurance
Direct business of GDV member companies, Germany
| Year | Premiums in EURm | Change over previous year | Claims settled in EURm | Change over previous year | Loss ratio after settlement |
| --- | --- | --- | --- | --- | --- |
| 2020 | 335 | 9.2 % | 281 | 14.0 % | 110.0 % |
| 2019 | 262 | 10.1 % | 233 | -2.2 % | 85.3 % |
| 2018 | 247 | 5.6 % | 252 | 25.0 % | 112.9 % |
| 2017 | 233 | -10.2 % | 203 | -27.7 % | 85.3 % |
| 2016 | 259 | 3.3 % | 281 | 3.4 % | 99.1 % |

Market trends
Transparent risk information and the willingness to engage in risk dialogue create a basis of trust for risk carriers and are key factors when it comes to assessing risk and obtaining the best possible market terms.
Insurers are continuing their underwriting strategy by thoroughly analysing and selectively evaluating the risks faced by corporate management. Early strategic planning with a consultant in combination with consistent preparation of the requested comprehensive risk data – currently with particular regard to corporate ESG profiles – increases the chance of good insurance coverage. Specialist expertise in the lines and industry teams of globally experienced brokers provides the know-how needed to support risk marketing.
Simultaneously, there is time to consider alternative coverage for risks that are difficult to market. In terms of D&O placement, facultative reinsurance markets have become indispensable for higher capacities. Risk retention models such as captive solutions have yet to gain wide-scale acceptance in the market.
High D&O costs are driving businesses looking for insurance to consider their own insurance protection solutions through insurance associations. It is still not possible to predict whether the hurdles this would involve can be overcome.
Quarterly index of D&O pricing
from 2015 to 2021
Source: Aon D&O Pricing Index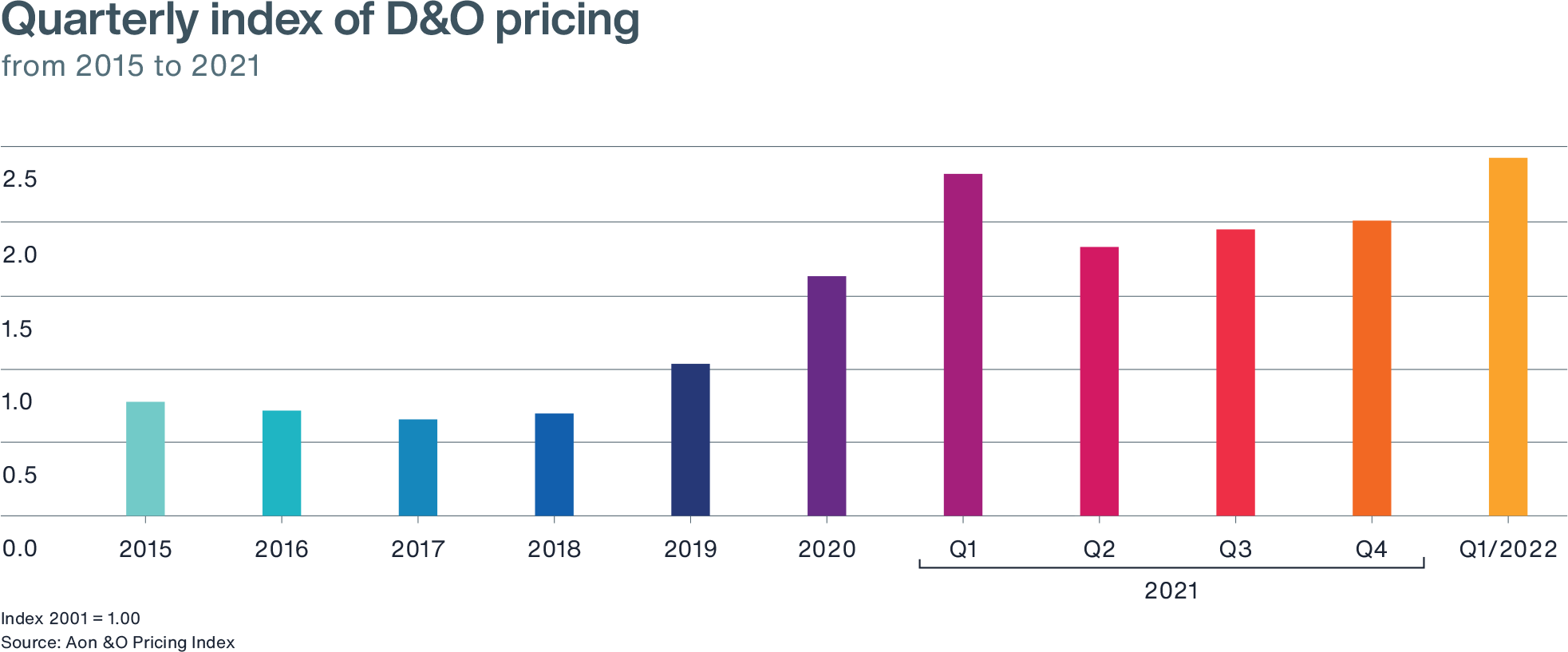 1) Insolvencies: We'll be back (allianz-trade.com), Corporate insolvencies in Germany up to 2021 | Statista
2) Clearly more loss expenses in D&O liability (gdv.de), Directors-and-Officers (D&O) (gdv.de)
3) E.g. events organisers, travel & tourism, hotels & catering, retail