13
Health & Benefits
Company Health Insurance
13
Health & Benefits
Company Health Insurance
Good success is nothing small, but it starts with small things.
It's a quotation by Socrates that ever more companies are taking to heart when it comes to recognising and valuing their employees. But which benefits appeal, and why are benefits so popular today? A core challenge for companies is to create a work environment that makes it easier for their employees to meet the daily demands of their jobs. Recent studies1 have shown that targeted investment in employee health is not only highly regarded by staff, but also has a positive impact on employee well-being. This well-being, in turn, leads to a higher willingness to perform and has a direct influence on the achievement of company goals.2
Market situation
The highly positive trend in the company health insurance (bKV) line continued in 2021. According to PKV-Verband (Association of German Health Insurers), companies now rank supplementary company health insurance among the most important additional benefits. A look at the statistics backs this up. As a result, at the end of 2021, just under 1.6 million employees benefited from such insurance, an increase of nearly 600,000 employees year-on-year. This corresponds to an increase of 54 per cent in just one year. However, these statistics only cover those companies where employers pay contributions in full.3 This trend confirms the words of Steffen Kampeter (Chief Executive of the Confederation of German Employers' Associations (BDA)), who said that "the growth in supplementary company health insurance shows that employers are willing to make a commitment to their employees' health. But it is also an expression of the increasingly fierce competition for the best talents."4
Successful company health insurance model
from 2018 to 2021
Source: PKV-Verband 2022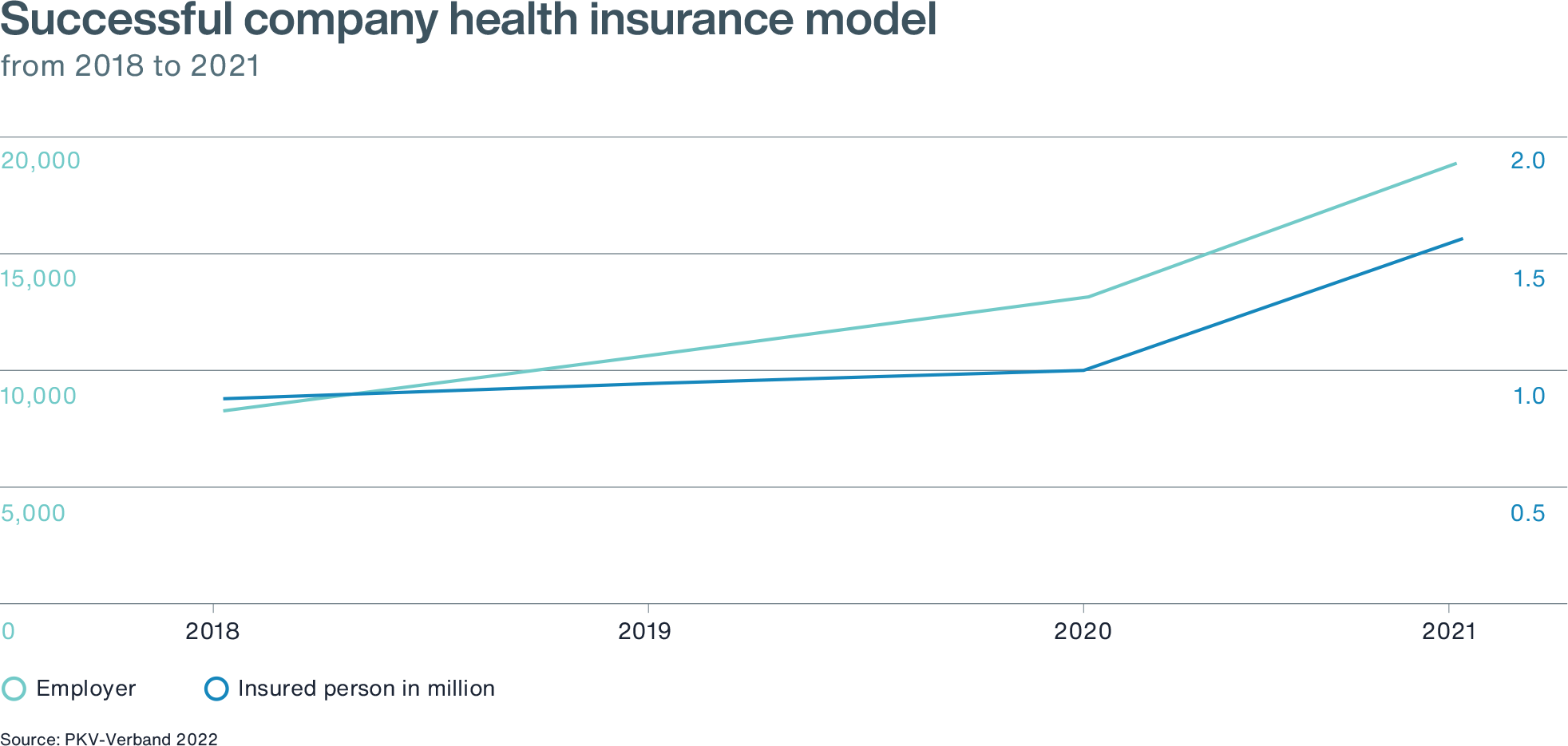 Outlook
In addition to wages and salaries, companies will have to continue to offer attractive benefits to retain staff and attract new, qualified specialists. Attention is increasingly being paid to company health benefits as they offer companies the opportunity to maintain, strengthen and support the health of their employees. The suitability of specific company health benefits will depend on the objectives and aspirations pursued by the company in question. An individually tailored health concept, adjusted in line with the company's needs, for example, can help reduce absenteeism caused by illness.
In addition to the classic model of occupational health insurance, company care solutions also have to be considered in companies' well-founded health concepts. Demographic change will lead to a further increase in the average age of employees. As a result, the number of relatives in need of care will increase, too. A survey by Techniker Krankenkasse5 showed that more than 60 per cent of the workforce would reduce their working hours in order to be able to care for a relative in need of care. A company care solution in accordance with the German Nursing Care Period Act (PflegeZG) allows companies to pursue a family-friendly policy which can also help reduce staff turnover costs in the long term.
Market trends
The positive trend in occupational health benefits will continue as in previous years. In addition to traditional modular tariffs (e.g. supplementary dental insurance), the trend towards budget tariffs will also continue. This is because many companies see it as an advantage to able to make an annual budget freely available to their employees. Depending on their personal requirements, employees could then decide which health services (visual aids, dental treatment, non-medical practitioners, etc.) they would like to use their budget for. New additions include the offer of benefit extensions within a budget tariff. For example, if no benefits are claimed in a given calendar year, the initially agreed budget amount would be increased by ten per cent at the beginning of the subsequent calendar year. Other insurers are putting their focus on the utilisation of the entire budget: employees who have utilised the entire budget receive an additional 50 euros at the beginning of the new calendar year. The motto here is "those who need more should also be given more".
This motto also applies to the waiver of sub-limits within a budget tariff.
Regardless of whether a company opts for a solution based on tariff modules or budget tariffs when introducing occupational health insurance, assistance services such as medical video consulting, health portals or a specialist appointment service have now become integral parts of occupational health insurance policies. These benefits are not deducted from the benefits already promised and are offered by insurers free of charge as part of an occupational health insurance policy.
It will be interesting to see whether there will be a separate implementing regulation for occupational pensions. Some ideas are already out there.
1) Employer/employee survey conducted by infas quo, 2021; PKVVerband 2021; Nunes, A. P., Richmond, M. K., Pampel, F. C. & Wood, R. C. (2017). The Effect of Employee Assistance Services on Reductions in Employee Absenteeism. Journal of Business and Psychology, 33(6), 699–709; Scherbaum, M. (2019). Gesundheit für alle – Revolution der betrieblichen Gesundheitsversorgung. Springer Publishing. page 90
2) The Rising Resilient, Aon Versicherungsmakler Deutschland GmbH & Co. KG, August 2020
3) Source: PKV Verband (https://www.pkv.de/positionen/betriebliche-krankenversicherung/)
4) Handelsblatt, 9 January2020
5) Source: TK-Meinungsplus Pflege, Techniker Krankenkasse 2018